The Formula 1 Gossip column by SkySports
Mercedes celebrate six at Brackley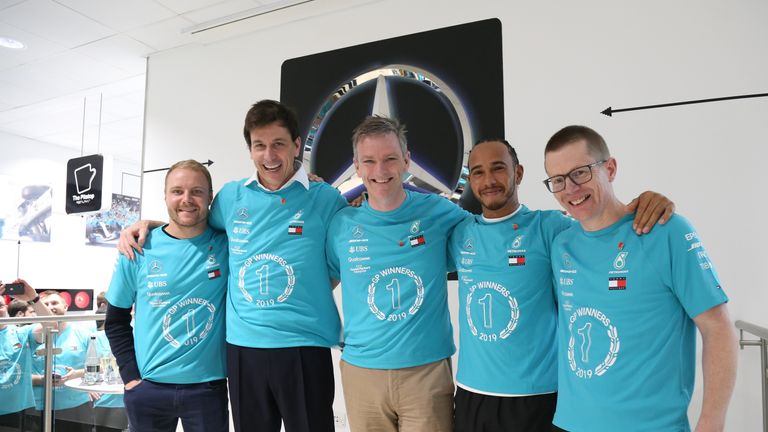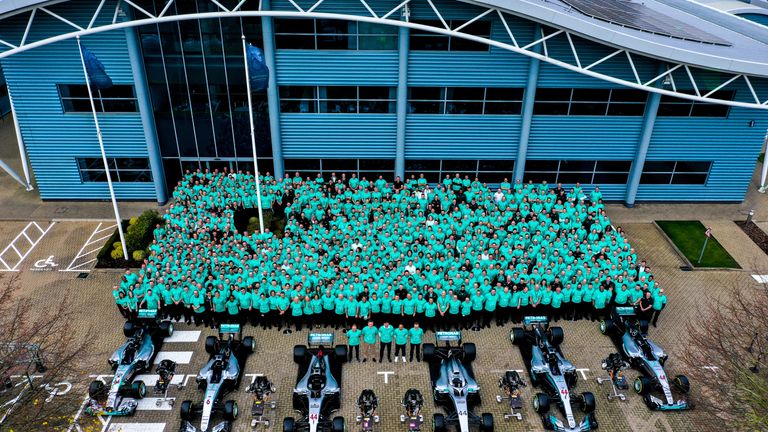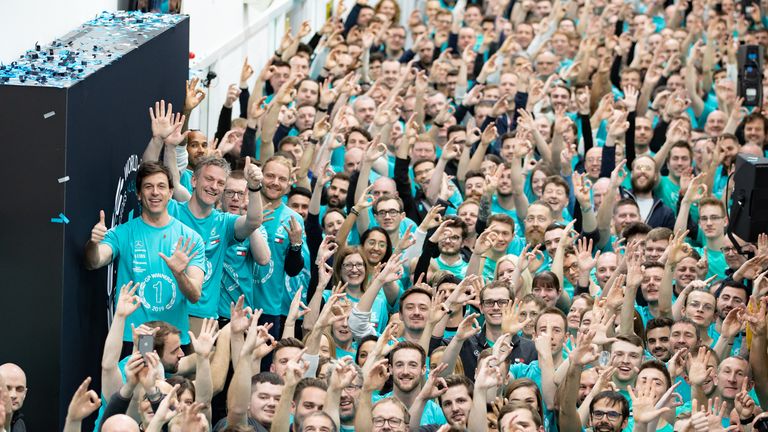 Angry Leclerc hits back at Verstappen
Charles Leclerc labelled Red Bull rival Max Verstappen's comments about Ferrari "a joke" after the Dutchman implied that a technical directive issued by the FIA at the US GP concerning the use of fuel-flow meters hampered the Scuderia's performance.
After he finished third in a race Leclerc ended 52 seconds behind the winning Mercedes, Verstappen said about Ferrari: "Not surprised. At all. About it. After what came out. So that explains everything." He then added: "The piece of paper."
However, Leclerc later retorted: "I think it's a joke to be completely honest. He has no clue, he's not in the team, and we know exactly what we are doing. I don't know why he's speaking, he doesn't know anything about us."
Hamilton-Verstappen end 'beef'
Lewis Hamilton has revealed he cleared the air with Max Verstappen ahead of the US GP after comments from both drivers in the wake of their clash at the previous race in Mexico.
"I spoke to Max before the race "and I was like, 'Dude, you're such a great racer, man, let's squash whatever happened between us, whatever beef, let's just get rid of it," Hamilton was quoted as saying by F1's official website.
"Let's go out there and have a great race, man'."
Verstappen is a magnet for contact'
An entertaining post-race press conference after the drivers were asked whether they treat Max Verstappen "differently" to others when racing wheel-to-wheel. Verstappen made contact with Valtteri Bottas and Lewis Hamilton during the Mexican GP.
Hamilton: "Err… yep. I think every driver is slightly different. Some are smarter; some are like very smart, aggressive and some are silly with it. And so, through those experiences of racing with people, you give some more space and others you don't have to. They're quite respectful. But yeah, Max, it's very likely you're going to come together with Max if you don't give him extra space, so most of the time you do. But as I said, in my experience, I didn't have a lot of space to give him extra space. But I don't think it was intentional or anything like that. It was just… he's a magnet for those kind of things but yeah, nonetheless, I managed to keep the car together and in a straight line, fortunately."
Sebastian Vettel: "Yes and yes. Just copy-paste. It's true."
No issues between Leclerc and Verstappen
Charles Leclerc said there are no problems betweeen himself and Red Bull rival Max Verstappen after their first-lap clash in the Japanese GP. Leclerc was penalised by stewards for causing the accident, with Verstappen sustaining race-ending damage.
"We had a small discussion before the stewards' room," said Leclerc at the Mexican GP. "He knew I had done a mistake and these things happen. It was definitely not a big deal."
Vettel: F1 should do more about environment
Sebastian Vettel has backed Lewis Hamilton after his social media posts about the environment, and says Formula 1 "should do more" to send a stronger message.
"The point is very clear," the German said after Hamilton urged people to change their lifestyles. "You would be ignorant if you wouldn't look at it.
"Obviously it's very difficult in a way for us to get acceptance from outside because we don't have the smallest footprint because the races happen around the world and we do have to travel – it's part of our jobs.
"In general, Formula 1 I feel should do more, it's a worldwide operated platform. I think we should send a much stronger message regarding this subject.
"I think everyone can do something, contribute a little bit and if the whole world would act like that then it would make a huge difference. I think it's inevitable that change is coming and hopefully sooner rather than later."
Hamilton trains with boxing legend Chaves
How about this for a warm-up ahead of a big sporting weekend? F1's world champion Lewis Hamilton got in the boxing ring with Mexico's multiple former world champion Julio Cesar Chavez for some sparring.
Latifi gets more Williams seat time
With one Williams race drive up for grabs in 2020 ahead of Robert Kubica's impending departure from the team, the Grove squad's reserve driver, Nicholas Latifi, is getting the next three Practice One sessions to further show his ability.
"Nicholas Latifi joins us this weekend for the first of three consecutive FP1 sessions," said senior race engineer Dave Robson. "This weekend he will drive Robert's car, before taking over George [Russell]'s car in Austin. Nicholas has done an extremely good job each time he has driven the car this season and we look forward to welcoming him back and getting his impression of the latest upgrades."
Miami GP set for end-of-October vote
F1 and Miami's hopes of creating the first race in the Florida city are set to rest on a vote on Monday, October 28. The Miami-Dade County will meet to discuss the proposals for the Grand Prix around the Hard Rock Stadium after venue and F1 officials struck an agreement in principle for the race to take place from 2021.