ICE 2020: Magellan Robotech, with its innovative products, "enchants" the delegates present at the London event … The Betting Coach meets its Chief Commercial Officer – Christian Maglia
Magellan Robotech, the b2b section of the Stanleybet Group, pays homage to ICE 2020, exhibiting at stand S4 – 252, a wide range of cutting-edge and highly performing products at the service of the global gaming industry.
The members of the sports, betting and casino games industries meet, as every year in London, to celebrate a new edition of ICE, the game event that has become an unmissable "cult" over time.
A crazy showcase of delegates and companies gathered in the same place to make a group and structure incredible networking and high-level business opportunities.
ICE London is the top global game event open to all experts; with over 35,000 admissions, it continues to be unrivaled, applying as the main event dedicated to technology and games.
On this occasion, the team of The Betting Coach reached its absolute protagonists, doing interviews and telling exclusively for its readers, all the latest news presented in the various exhibition stands.
Innovation and new opportunities are the basis of this year's edition, which finds its maximum expression at the exhibition stand designed by Magellan Robotech , where in these three days it was possible to admire all the latest corporate solutions currently in production and marketing.

*Magellan Robotech Ltd, is the software development company founded in 2014 by Stanleybet Group, an international bookmaker with over 60 years of experience, with the aim of exploring new frontiers in the world of Gaming and entertainment.
Since its foundation, the company has always dedicated its utmost attention to the creation of customized products and services for the global gaming sector, in order to improve the productivity and efficiency of the operators and further enrich the experience of customer game, making it more intense and exciting.
Since June 2018 Magellan Robotech has had the international ISO / IEC 27001 certification, which globally defines the requirements for an Information Security Management System (SGSI).
The products offered by the company, already certified in several European Union countries, include: a complete Gaming platform, compatible with the gaming products of the main world providers; V-Sports (3D virtual games which include football matches, horse races and dog races); Trident (a championship with multiscreen layout, which can vary from 1 to 4 displays); V-Numbers (two different types of lotteries); Apache (a complete Pre-Match and Live Betting system, for the retail market), Midas (a software for Self-Service betting, for the retail market).
Visit the official website for more details: http://www.magellanrobotech.com
We met Christian Maglia, Magellan Robotech's Chief Commercial Officer, here is our exclusive interview:
1 – Christian Maglia, meeting you in the gambling events that matter is now a fixed point for us at The Betting Coach! How's your Magellan Robotech mission going?
Meeting to deal with a team as young and dynamic as yours is always a pleasure! Indeed, I must say that it is nice to meet Italians in various events around the world. Only in the past six months, if I'm not mistaken, is the fourth time we meet after London BOS and SBC Awards and Sigma Malta.
Regarding my mission in Magellan Robotech, I would say that everything is going well. We are doing a great job on all fronts.
In fact, thanks to the great expertise of the team of developers in Liverpool and Malta and of all colleagues from Marketing, from Compliance to Administration, our brand is spreading and is increasingly recognized.
But it's not just about brand awareness, what I think is a priority, is being able to put together everything we have and make it interesting and usable for customers who come to us from different parts of the world.
We have products in our portfolio ranging from betting platforms, to physical machines for shops, to virtual sports and lotteries and numeric games.
We are among the few companies in the world that really manage to respond to any need of a sector customer and if we limit ourselves to the offer for retail, we are probably the only one to have such a wide choice.
This is clearly a strength but it is also a point that must be managed in a coordinated way and with an overall vision.
I think this is my main effort today. A bit like when we were children we used to play games in which the dots joined together to then draw out a drawing, so, day after day in the company we combine the common points to build our success.
_________________________________________
2 – Stanleybet Group with its B2B, Magellan, confirms itself as the absolute pioneer of the sector. High-tech and high-performance products, created to meet the needs of managers and users, are the basis for unprecedented success. Trident and Magellan Betting Kiosk, what news have they introduced on the market?
Trident continues to grind incredible numbers in our b2c network and begins to successfully appear in the b2b world.
We ourselves are amazed every day how even the addition of theoretically competing products does not actually create any cannibalization.
Players like being able to bet on leagues and virtual teams. The secret of Trident's success lies not in graphics, but in the perfect success of mathematics and gaming experience. Betting on a wrong odds or calculated differently from how an operator calculates and offers it in the sports betting area, would displace the player. It would make him understand that he had entered a territory other than betting, closer to casino games or video games. In my opinion, the strength of Trident lies in the perfect mix between mathematics, bandwidth consumption, ease of distribution even in stores, gaming experience which, although based on RNG, is perfectly comparable to that offered by sports betting on real events on all the available channels, from PC to mobile phones to shops.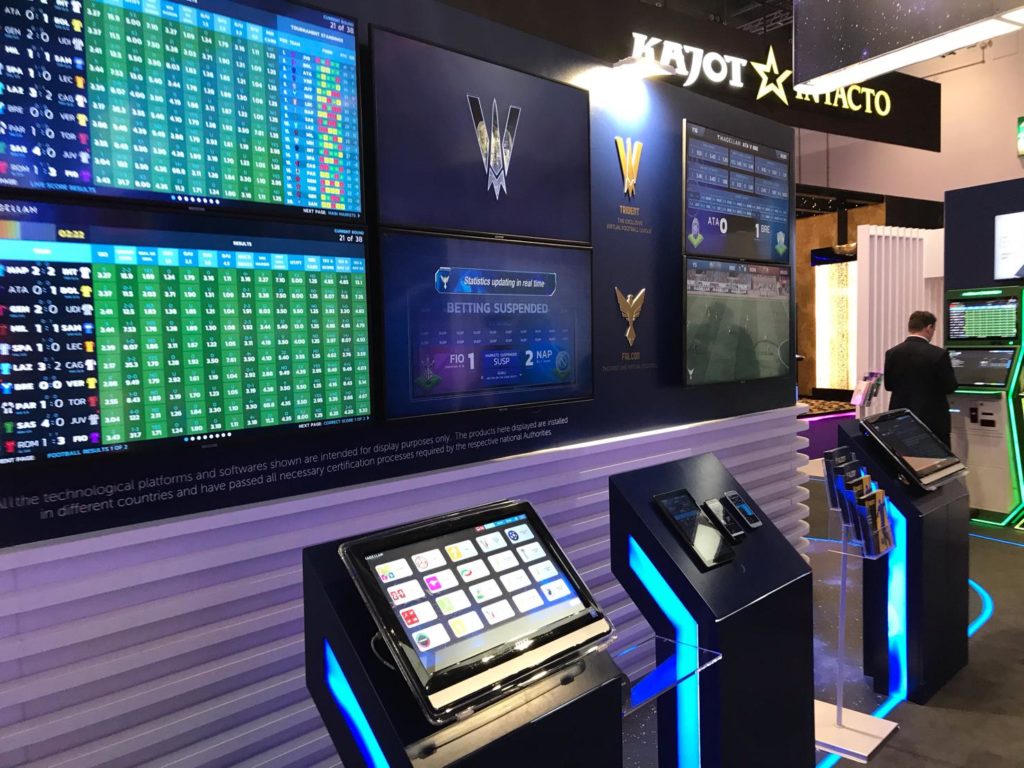 Graphics and animations are a very important component, but not the only one and above all, a simulation of events with a video game must not be transformed. Clear that the graphics could be easily pushed towards a completely photo realistic product and since in our team we have a series of developers and designers who come from the world of video games for consoles, it will be increasingly more with the growth of the calculation skills and the diffusion of 5G, but, anticipating too much this process could collide with the usability of the product. Greater demand for computing power, higher costs for machines to be installed in shops, higher costs in downloading and data consumption, need for broadband even where not available.
As you can see here at our stand, this year we have gone further. With Falcon which is the natural evolution of Trident, and a perfect "completion of the same, especially in the stores, we are the first in the world to also launch running bets (live betting) on ​​virtual football leagues.
In order to offer an equally interesting game experience, we had to resort to the use of artificial intelligence for the generation of the various game actions and a completely new concept that our engineers have developed, that of the "virtual drones" that , I try to explain it in really simple terms, moving on the playing field according to the rules dictated by mathematics, AI and RNG, move every graphic component of the players on the field to make everything coordinated and convincing.
Something that is technically really complicated but that must ultimately turn for the end user into simplicity and ease of play. Falcon is undoubtedly the future of Virtual Sports and from here we start, in the front row and determined to succeed.
Regarding MBK (Magellan Betting Kiosk), I can tell you that we bring our sport betting terminals or betting kiosks to London characterized by an attractive and fully customizable design, from top components with industrial motherboards, ease of access to components and very competitive costs if compared to European companies with components of the same level.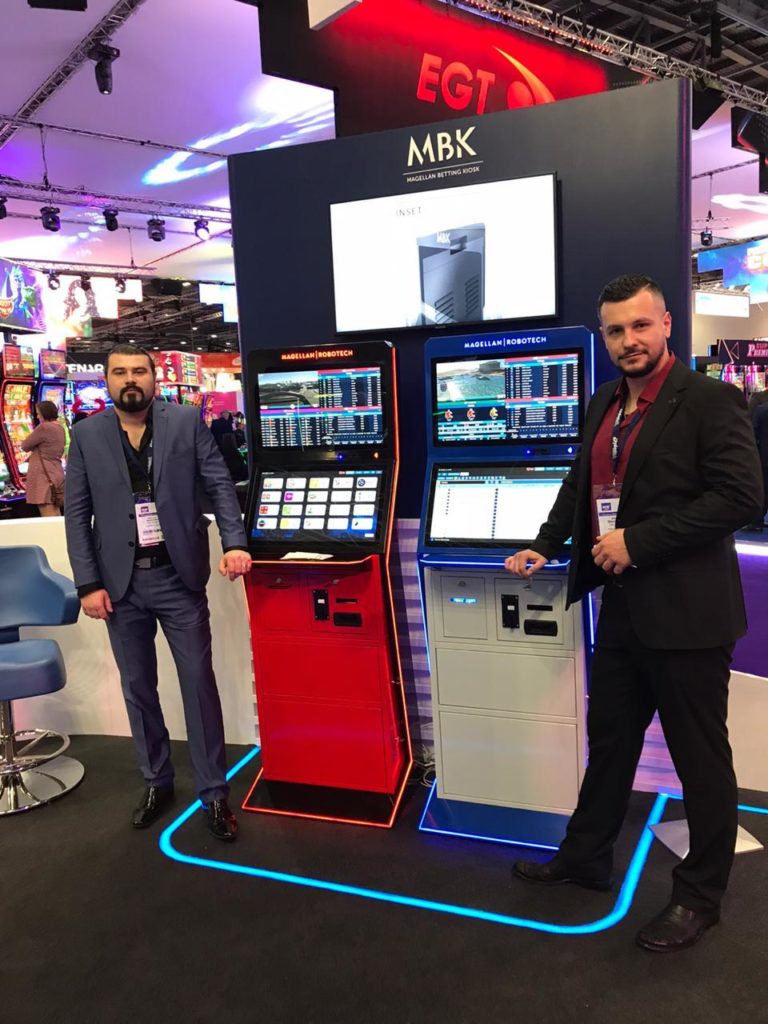 K1 is the first machine that comes out of our new production plants in Croatia, made by listening to all the feedbacks that arrive daily from the networks of our B2C operator, Stanleybet, in Belgium, Italy, Denmark, Cyprus and Romania.
In short, I think that if we talk about products, the least common multiple for Magellan Robotech is the ability to create products and services that are requested directly from a very large network of shops and customers from all over Europe. We work to find the best solutions and offer the best product to meet the needs of our customers. You will have understood it.
Personally I am a Sales man who always has only the Customer at the center of his attentions. This philosophy is reflected in the way we work with Magellan Robotech and with the whole group.
_________________________________________
3 – ICE London, like every year, brings together many companies and delegates from all over the world. It is one of the unmissable events capable of creating important business and networking opportunities. What are the strengths that can make it so trendy?
Well meanwhile, there is the story of ICE that has its roots in over 20 years of events; before arriving at the ExCeL where it takes place today, it was held in Earls Court, practically in central London.
Then, the city that hosts it in itself always has a great charm, especially for its dynamism, multiculturalism and multiforms with the presence of millions of citizens from over 150 different countries, food, fun, ease of achieve it as well as the presence since the first editions of the main operators and producers in the sector.
Then, without a doubt, the fact that Clarion organizes everything in a truly impeccable and professional way. It is not only about the exhibition area but also about the conferences that revolve around it.
In short, to date ICE has been the perfect event, the only one in which the whole world wants to participate. There are companies that exhibit only at ICE during the year and work 12 months to prepare for this event.
What will happen from here on is sincerely difficult to understand. Brexit will likely bring great organizational difficulties to exhibitors. Think of the shipments of dozens of machines, the management of customs, travel documents.
We will see, maybe nothing will change, but from the first opinions of colleagues and friends, a change is expected next year. We'll see!
For now, we once again enjoy the opportunity to meet thousands of potential customers from five continents in just three days, to make ourselves known all over the world and to meet professionals in the sector.