SBC Digital Summit: innovative betting-oriented software and services are the basis of Altenar's offer! Here our interview with Domenico Mazzola his Commercial Director
Altenar, a Malta-based sportsbook supplier, was among the virtual exhibitors of this edition of Digital Summit, the virtual event organized by SBC from 27 April to 1 May 2020.
Due to the pandemic we live in and anti-contagion laws, the summit took place in a new and interesting format. The event recorded incredible numbers of participants that made SBC Digital Summit: the largest online betting and gaming event in the world.
A mix of virtual exhibition stands and interesting video analysis panels welcomed over 10,000 visitors from all over the world; an unprecedented success that lays the foundations for a new and future evolution in the organization of events.
For the occasion, our team of The Betting Coach visited Altenar's virtual stand, where we met Domenico Mazzola – Commercial Director.
___________________________________
ABOUT ALTENAR
Altenar is a provider of sportsbook software and services to licensed gaming operators. Ranging from 'software-only' product offers to the provision of a fully-managed sportsbook platform stack, Altenar offers proven stability coupled with a flexible and personalised service. Our software is developed and operated in-house, whilst being powered by premium quality data feeds.
Visit the official website: https://altenar.com/
___________________________________
1 – Domenico Mazzola, Altenar Commercial Director since 2017. What is your job and what paths can you trace from your arrival at the company?
As Commercial Director, my role is to coordinate the Sales department by collaborating together with the Marketing department to ensure that there is a communion of intent on commercial strategies and marketing activities.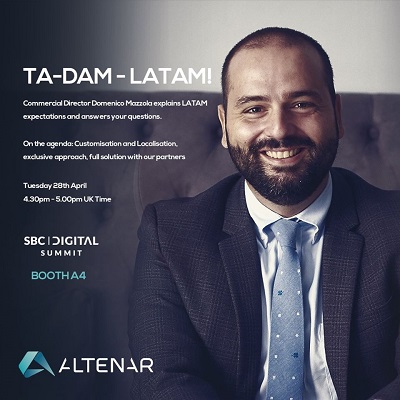 In three years, since my arrival, the company has doubled in staff terms from 67 to 121 employees. Over this period of time we have grown enormously, obtaining Maltese and English licenses. Several different certifications in various other European countries (Spain, Sweden, Romania, Bulgaria) to name just a few.
We succeeded in the difficult task of bringing our product to the Italian market. Certainly one of the most difficult on a technical and competitive level. In general, as far as volumes are concerned, we are doubling them year by year, increasing not only that generated by existing operators, but adding new ones. A sign that the company grows organically in parallel with revenues.
___________________________________
2 – Altenar is a provider of sportsbook software and services to licensed gaming operators. What are the products that best represent your company and what are the characteristics that make them unique and appreciated by your partners?
Surely our spearhead is the solution for managing sports bets. A solid, flexible and capable product, uncommon, to adapt to the different characteristics of the players depending on the target market. Often, looking at a site, it is easy to recognize the provider of the sports betting management software. In our case, it is more complex, since we try to have a markedly localized approach to the target market. In summary, stability and flexibility are our brands.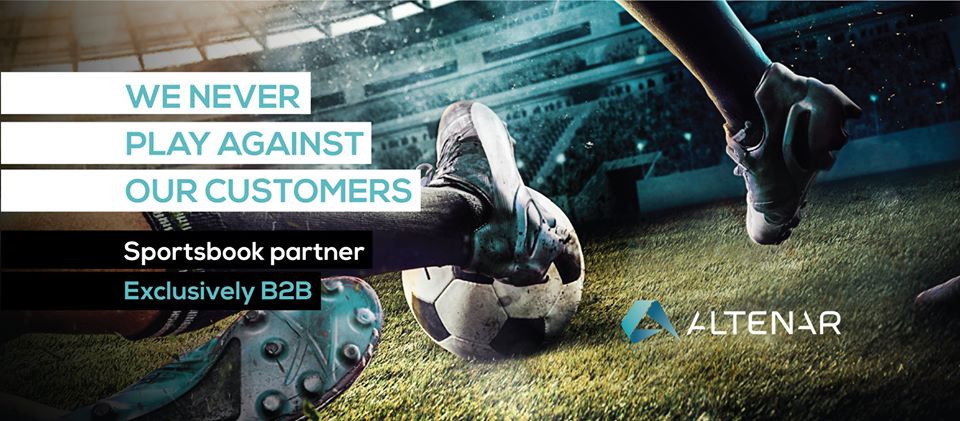 ___________________________________
3 – Covid19 scares the markets, what has changed for Altenar's business and what are the measures implemented by your company to counter the crisis?
Covid19 is certainly a big problem for the whole world in general and not just for our sector. Not necessarily and exclusively in numerical terms. Uncertainty is slowing down the emergence and development of some opportunities that will take longer to start. As for Altenar, the limited offer in terms of sporting events, has led us to push further the development of some projects that we had left in the drawer and that we are convinced that it will give us an important advantage when operators regain confidence in the transport on their plans.
___________________________________
4 – Your company is among the exhibitors of SBC Digital Summit, how was this virtual experience and what were the most frequent requests from your users?
SBC Digital Summit was an important event to test the current state of business with a format that will probably be the only alternative for us in the next six months / year. We had some interesting contacts with operators interested in integrating our sports betting product. Others simply passed by for a virtual greeting and to remember the old days of live encounters.
___________________________________
5- SBC Digital Summit opens the door to a new era of iGaming events, a taste of the future waiting to come back to meet us and do live networking. What is your opinion about this event?
The event was an excellent showcase to show, once again, our corporate solidity to the market. While other companies, already from the first week of the pandemic, left some employees at home, or cut their wages, in Altenar we focused on our employees because we are convinced that investing in people is the best way to be ready to start again.