Bill Pascrell, III nominated President of A GAME ABOVE -North America
The marketing agency "A GAME ABOVE" made official yesterday the appointment of Bill Pascrell, III, as President of A GAME ABOVE, North America; the advice and insights of the well-known and beloved talent in the sector will guide and help the group expand its reach across the United States and Canada.
Bill Pascrell III, known in the industry as BP3, is a partner in Princeton Public Affairs Group, the nation's largest state contract government and public affairs firm.
He is a leading national expert on online gaming, sports betting, lottery, exchange wagering, e-sports and horseracing. BP3 has a diverse worldwide client base including Hard Rock Casinos, GVC Holdings, GVC Foundation US, Golden Nugget, Ocean Resort, Gaming Innovation Group, BetMakers, Sportech, Lotto Land, Monmouth Park Race Track, Meadowlands Race Track, Camelot, PokerStars, Gambling.com, Monkey Knife Fight, EPIC Risk Management, and Gamban, to name a few.
Mr. Pascrell led the campaign to legalize NJ Sports Betting in the US with the recent SCOTUS decision to repeal PASPA, after managing a successful statewide ballot referendum legalizing sports betting. Bill Pascrell, III is known internationally for his sports betting and online gaming expertise, as well as his influence in crafting horse racing and lottery regulations and legislation.
Most notably, Mr. Pascrell spearheaded the multi-year campaign to pass the landmark New Jersey On Line Gaming Act signed into law by Governor Chris Christie in 2013, which has been a model for all US states.
BP3 is a member of the National Council of Problem Gambling Federal Affairs Committee, The Ampersand Assembly for ICE and GIGSE, and serves on the Board of Directors for GVC US Foundation. BP3 has been routinely cited as one of the 100 most influential personalities in New Jersey politics by NJ Globe, PolitickerNJ.com, Insider NJ, and NJ Cannabis Insider. He is a frequent national media political commentator on MSNBC, ESPN, CNN, Court TV, Comcast CN 8, NJTV, News 12, and Newsmax TV in addition to many national newspapers.
___________________________
"We feel privileged to welcome Bill Pascrell, III to the A GAME ABOVE family, and have his ideas and insight provide impact across our relations with betting and gaming stakeholders, for the benefit of betting and gaming customers across North America, who will be entertained, engaged, captivated and cared-for by our promotions that serve as games above the gambling," said Steen Madsen, Chief Executive Officer of A GAME ABOVE.
"I'm proud to become President of A GAME ABOVE, North America and thrilled to be part of the A GAME ABOVE story – from my first encounter with the team, their betting and gaming customer solutions clearly showed the ability to make customers believe. That belief covers multiple customer desires – that they can play safely and sustainably; challenge themselves; practice without risk; pursue a dream, like becoming a champion player; and, fundamentally, believe that they can win something meaningful. I have experienced the success with which A GAME ABOVE customer sales promotions can provide a career path for players, from which the winning of money, alone, is not the only acceptable result, when there are so many other achievements and aspirations satisfied through engagement with their campaigns. North American customers will be captivated by these unique and creative promotions that focus on the emotions and feelings behind why players bet and gamble," said Bill Pascrell, III, President – A GAME ABOVE, North America.
"Bill Pascrell, III was our first choice to lead and grow A GAME ABOVE in the important North American market. As the individual who led the precedent-creating campaign to legalise sports betting in New Jersey – a model that is now followed across the USA – his network, knowledge and know-how is unparalleled in the industry. We're honoured to have him introduce A GAME ABOVE to North America, especially given the need to constantly convert and retain customers across the hybrid online and brick and mortar distribution channels that many A GAME ABOVE promotions are focused upon. As quarantine curfews relax, and the public return to play on property as well as online, we look forward to helping betting and gaming clients gain, retain and maintain their player audiences across all channels and products by leveraging our customer experience promotions," said Jakob Famme, Chief Operating Officer of A GAME ABOVE
About A GAME ABOVE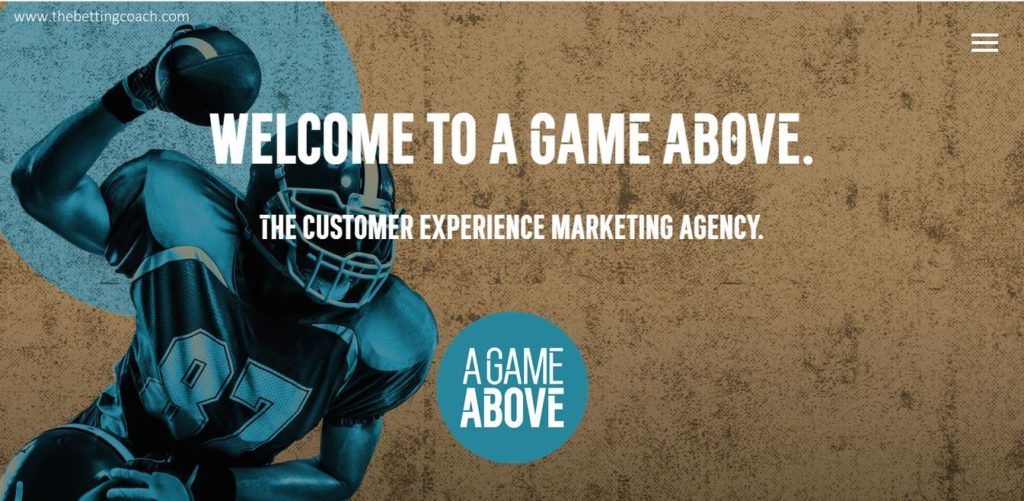 A GAME ABOVE create, sell and operate customer sales promotions for brand, products and community.
These sales promotions deliver:
– Customer engagement
– Customer lifecycle
– Customer lifetime value
Their Promotions literally provide a game above the flat transactional engagement most
consumers experience today, particularly online.
Engagement with A GAME ABOVE sales promotions moves customers from casual, single
purchase into a long-lasting relationship with brands, products and community, whether
online, brick and mortar or a combination of both.
Visit the official website: http://www.agameabove.com/