Italy Week: Martin Wachter – Golden Race
Italy Week, the iGaming online event that has just ended, pays tribute to Golden Race and Martin Wachter, CEO and founder of the leading company in award-winning virtual sports and betting solutions.
The members of the sports, betting and casino industries virtually met in Italy Week, the first official appointment, of the global tour organized by G.G.D.E. (Global Gaming Digital Expo).

Three days of unmissable webinars and insights, exhibitions and interesting networking, welcomed a large number of companies and delegates eager to learn more about the gaming markets in Italy.

Italy Week was an unprecedented success in Italy and lays the foundations for a new and future territorial evolution in organizing events.
Among the absolute protagonists of this appointment, we met one of the market personalities, best known and appreciated globally:
Martin Wachter – CEO and Founder of Golden Race!
Here is our interview:
Martin Wachter, Founder & CEO of one of the best known and most respected B2B gaming companies in the world. How and when was the GoldenRace idea born?
It was in Germany, in 2006. I was already working in the industry but had some ideas to create my own company and make things different. That's how I created GoldenRace together with my former boss, who is now my business partner.
Now, there are over 50,000 betting shops running our software and more than 400 websites with our games integrated.
We are now market leaders, but we had some ups and downs in the beginning. It wasn't so easy to establish our business in the industry.
It has been an amazing challenge. This path has required a lot of drive, dedication and hard work.
But because of the level experience we have acquired, plus our focus on innovation and a positive mentality, we always keep growing in this competitive industry, while helping all our partners grow with us.
______________________________________
The innovative and highly performing products managed by your company have revolutionized the global betting. Which is currently your most popular game in Italy and what is its characteristic?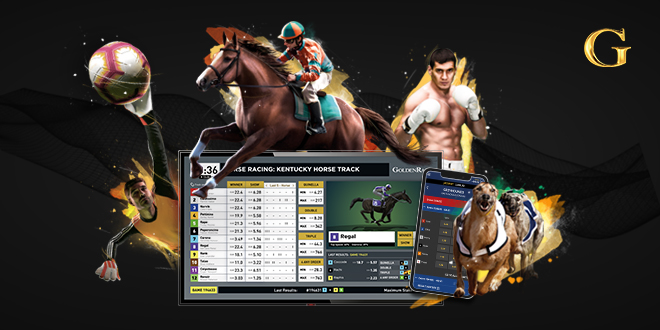 Everybody in Italy is aware that the virtual soccer league we provide together with Goldbet is the most successful game ever in virtual sports in the country.
Also, we were the first virtual sports company having a license in Italy.
Italian players love to bet on the Serie A, and they like our product because it is very authentic, close to the real league, and they can play it 24/7 and not just once a week!
Even if our football is the most played game, we continue making technological improvements to have a better and more realistic product each time.
The main characteristic of our virtual sports is their level of authenticity, which is unprecedented in the industry: from the sportsbook interface to the realism of the odds and outcomes, the extensive number of markets and the hyper-realism of the 3D visuals and animations – all these features succeed in attracting players everywhere and maximising retention.
Especifically, our virtual football has the latest motion capture technologies, real team moves from professional players, real sports camera angles, incredible visual and sound FX, voice-over from commentators in all major languages, realistic odds and a familiar betting interface, among others, make Golden Race's the most authentic 3D football simulation in the market and the industry top revenue virtual football, generating more than 20 million bets on a daily basis.
A 100% innovative and an absolutely unique contribution to the industry with an exclusive set of features: live rendered events, immediate customisations, a low-cost software , realistic odds and outcomes, and more than 20 major leagues and tournaments.
Also, we listen to our partners and work together with them to bring them the most profitable solutions, created for their specific markets.
______________________________________
GoldenRace and its virtual football are absolute leaders on the Italian territory. The merit of this success must be recognized not only for innovative graphics and product features but also for the agreement with a national bookmaker that has made it an absolute priority for its retail: Goldbet! What are the numbers of this winning partnership and what are the next evolutions that GoldenRace will implement in Italy?
Italy is, for me, the most developed and regulated market for virtual sports.
It is a great example to show in other jurisdictions the great amount of revenue that this vertical can bring – of course, if it is created and implemented properly. Operators and bookmakers have profited from the advantages of virtual sports, obtaining great results year after year since 2015, when this product entered the market.
We started operating in the Italian regulated market together with Goldbet in 2017, and we are market leaders with a big market share just serving one client.
According to numbers, GoldenRace virtual sports have been doing a heavy part of the whole betting volume of the retail business in Italy since 2018, which shows what it means if you provide good quality virtuals.
It is great to be partnering with such a successful company as Goldbet. We make a great team and we are very happy with them.

______________________________________
Covid19 has stopped the whole world from penalizing the business of many companies. What were the effects of the pandemic on GoldenRace and what are the numbers of the slow return to normal?
We kept working as usual with our retail customers, who are very important to us.
But, as most of our retail shop partners started to temporarily close, because of the pandemic, our teams dedicated these months to working and improving our online solution, while also working hard integrating our online platform into our new partners' websites.
We have acquired a lot of new clients since the pandemic started, mostly in the digital area because of the lack of real sports events. In March, for example, we had 74% more online tickets and a rise of 21% in total tickets (retail + online). And we have also signed around 130 new partnerships with online platforms and operators since then.
But, as I always say, virtual sports were already a success before COVID-19, with 15% to 20% estimate of the monthly profits generated by virtual sports at European betting shops, and even higher percentages in other markets such as Africa and Latin America.
The only difference is that this year operators had the chance to see and understand that virtual sports, especially when it comes to sports betting, is the only product that really fits and works next to it.
We are really proud that, finalising the first half of the year, we have grown more than 30% in the whole company, retail and online, even with the pandemic issue.
______________________________________
GoldenRace and the idea of ​​reinventing the way of gaming. What should we expect from the future and what are the next goals you will try to achieve?
We want to keep on growing, of course, having more regulated markets where we can start operating.
We are also developing new products and improving the ones we have both for retail and online businesses, with the ultimate technologies to help our partners obtain a higher level of income.
______________________________________
The stop of live exhibition events and online networking opportunities. What do you think about virtual events? Do you think they can be an interim solution or an alternative to be improved and consolidated in the coming years?
I don't think real events will ever disappear. This situation has helped us to discover a different way of doing things, working remotely, "attending" events without leaving home… Now we have alternatives for the future, if they are needed, and it is good to be more connected.
But I think this industry ultimately prefers the real events.
It is nice to meet new people from different branches of the business, to see colleagues and associates that you haven't seen for a while, visit the different stands, to test products, have a cup of coffee and chat… At GoldenRace we like to be close to our customers and partners, so we will always prefer a physical event.
Anyway, we are really thankful for this event, the Italian Week at the Global Gaming Digital Expo, that allows us to share our news and keep on networking and being aware of what our industry is doing, despite the current situation.
---
MORE ABOUT GOLDEN RACE
Golden Race is a leading developer and provider of award-winning virtual sports and betting solutions. Being the global leader in virtual football league play and pre-recorded video sports, the company generates more than 15 million tickets per day through major partners around the world.
Golden Race's games have been licensed and certified in the most demanding jurisdictions and are currently available in over 50,000 shops and more than 400 websites.
In 2019, Golden Race was recognised as best virtual sports provider in Central & Eastern Europe, Southern Europe and the Baltics by the CEEG Awards, the SEG awards and the BSG awards respectively. The company also received two SBC Awards in the same year.
Founded in Malta in 2006, Golden Race has now more than 300 employees, owning several major brands in the industry, including Spinmatic in the area of Slot development and the live games provider HollywoodTV.