Copa Libertadores: Flamengo beats River Plate 2-1, with a super Gabigol
Flamengo wins at the Monumental in Lima and take the 60th edition of the Copa Libertadores: a success arrived with Gabigol's two decisive goal in the final. The former Inter, then sent off, also breaks a "curse": at the entrance to the field he kisses the trophy and this time brings good …
FLAMENGO-RIVER PLATE 2-1
14′ Borré (R), 89′ e 90′ Gabigol (F)
The 60th edition of the Copa Libertadores is from Flamengo. At the Monumental stadium in Lima, Peru, Jorge Jesus's team beat River Plate 2-1 in the final.
Good start for the Brazilians who, however, suffer Barré's goal on the River's first real chance and risk with Palacios (ball ending just outside) the second goal. In the second half, when it looks like it was made for Millonarios, Gabigol thinks of changing the outcome of the final: double between 89 'and 92'. For the former Inter, however, the 95 ′ expulsion also arrives, in a recovery made incandescent also by the red in Palacios (River). Flamengo wins which also gets the pass to the Club World Cup.
The "touch" of Gabigol, Flamengo breaks the curse?
Something curious happened just before the kick-off. It is the "touch" of Gabigol to the trophy at the moment of entering the field. Curious fact because the "rule" says that before a final you should never touch the cup. What seems (or seemed to be at this point) to be a real curse has some precedents: the last case brings us back to the 2018 Europa League final between Olympique Marseille and Atletico Madrid: Payet touched the cup, got injured and won the Athletic. Even earlier, on the occasion of the Champions League final of the 2011/2012 season, Tymoshchuk also failed to resist the temptation and Chelsea came out. Gabigol broke this curse. As in his case, however, even in that of Krychowiak the left alchemy did not come true with the 2014/15 Europa League final: success for Sevilla and the midfielder's goal.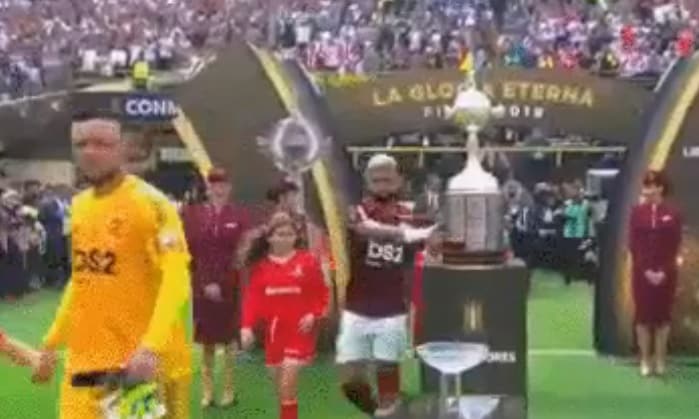 Jorge Jesus' Flamengo had reached the final after passing Emelec, Internacional and Gremio in the knockout phase. River Plate, on the other hand, had passed Cruzeiro, Cerro Porteno and Boca Juniors.
Argentina and Brazil are the two most successful nations in the Copa Libertadores. For Argentina 25 victories, while Brazil is second and rises to 19. Flamengo in the gold book is 3 wins.