How to become a successful affiliate marketing manager
Affiliate management is integral to success in online gaming. Affiliate marketing accounts for 50% of total net gaming revenue and keeps growing in importance year by year.
The success of affiliate marketing is based on the fact that it is the key way to target customers to casinos. Affiliate marketing is a performance-based system whereby businesses reward affiliates for sending them clients.
In today's competitive environments, operators have discovered in affiliate marketing a more cost-effective acquisition channel than media buying with high-traffic websites on a cost-per- impression basis or PPC campaigns.
Affiliate marketing is not only vital to the online gaming industry but can also be successfully used in different sectors such as forex, binary options and other financial trading brands. Today's forward-thinking affiliates will look at their sites less as a promotional space and more as a digital product.
How does one become a successful affiliate manager?
The key is hard work and adopting the maxim 'adapt or perish'.
The affiliate marketing channel has never been more robust and choosing to become an affiliate manager can lead to a lucrative and highly rewarding career choice.
There is space for affiliates to flourish and succeed and here is where highscoreacademy.com steps in.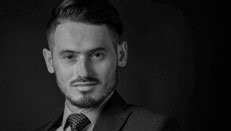 Highscore Academy – affiliate marketing
The academy was set up in 2018 by Andreas Leirich who has over 5 years' experience in this field gained in sizeable, stock listed companies and who has conducted several seminars during his work placements. His extensive knowledge in this field has led him to the realisation that there is a real need for hands-on, up-to-date seminars in affiliate management. His aim is to make iGaming Affiliate Management more accessible by holding seminars delivering key tactics and strategies for success in a vibrant, engaging fashion.
These seminars are held every 3 months at the Executive Lounge, The Palace Hotel, Sliema. They are held over 1 day and lunch is included. Previous experience is not necessary but it helps to have a positive attitude and an interest in the field. They are ideal for any individual who would like to kick-start or consolidate their affiliate marketing, or optimise their affiliate programme.
The seminar will present the latest trends in gaming affiliation. There will be discussions on the various commission structures, benefits and strategies and how to work with the most lucrative gaming markets. Attendees will be provided with information and innovative systems that really work. These seminars are so much more than just a power-point display. Andreas brings to the table his considerable knowledge, experience and insider information of the sector and passes on his know-how with an energetic, friendly manner. A certificate of attendance will be given at the end of the seminar.
Andreas has over 5 years' experience in Affiliate Marketing and learnt the ropes working for major players in the industry such as Mr Green, GIG and currently Global Gaming. More information can be found on www.highscoreacademy.com.