SiGMA Roadshow: the Nigerian gaming landscape
These are some highlights from the expert keynotes and panel discussions on SiGMA Virtual roadshow – Nigeria
The gaming industry in Nigeria is continuously expanding and gaining traction. This expansion can be attributed to the large youthful population and the increasing access and improvement to internet-enabled devices.
All this and more was put under the spotlight during yesterday's Roadshow, shedding light on Nigeria's gaming environment. Along with great speakers, the Roadshow welcomed 1.5k registrations a total of 1.3k conference views with total booth entries nearly surpassing the 5k mark.
Opening Keynote: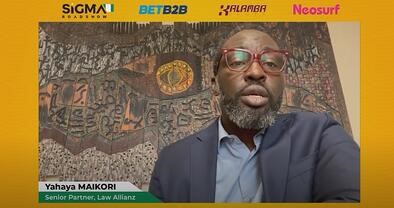 In his opening keynote, Yahaya Maikori Senior Partner at Law Allianz highlights the growth of this ever-changing market. The past couple of years saw the limited knowledge and small size of the industry fade.
Maikori accentuates that SiGMA "will keep on playing a key role in creating a marketplace that ensures the growth of the industry."
Looking to the future: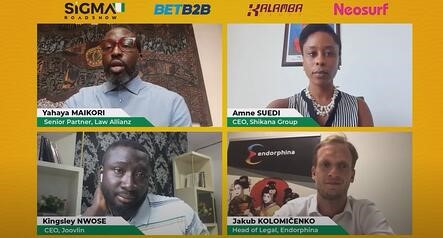 The gaming landscape in Nigeria has changed significantly throughout the years. In this standout panel, Yahaya Maikori, Senior Partner at Law Allianz is joined by; Amne Syedu, CEO of Shikana Group; Jakub Kolomičenko, Head of Legal at Endorphina and Kingsley Nwose, CEO at Joovlin to discuss the rise of the gaming industry in Nigeria.
Regulatory aspects were one of the main points of discussion and Kolomicenko stressed the fact that regulations will come sooner or later. He goes on to say that "maybe the lack of regulations is the reason why the operators are not really into the African market."
Amne Suedi also pointed out that changes in this market are quite vivid, stating "We have seen many changes. Many companies and associations are engaging with the government. All in all, it's been unstable. But we're moving towards stability. I think the market will continue growing more and more."
Nigeria: A Haven for Sportsbetting?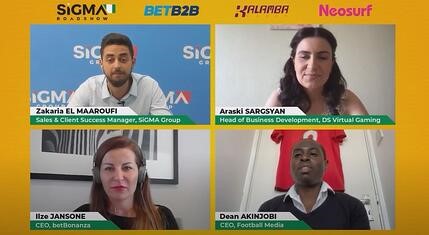 Nigerians are extremely passionate about sports and the demand for online sports betting is quite high. Placing bets online if you're living in Nigeria, is legal, with states in the country having multiple betting shops for players to wager on.
This panel discusses the question of Nigeria being a haven for sports betting. With Zakaria El Maaroufi leading this discussion, Araksi Sargsyan Head of Business Development at DS Virtual Gaming, Dean Akinjobi CEO of Football Media, and Ilze Jansone CEO at betBonanza discuss sports betting as a whole in the region.
Akinjobi stresses the fact that this is the number one type of entertainment with various brands looking into Africa to expand their market visibility. Jansone says that "in Nigeria, sports betting still is the dominant form of betting and gambling, in particular online." Localisation was also a point of discussion with Sargsyan asserting the importance of localision of products.
TVBet in Africa: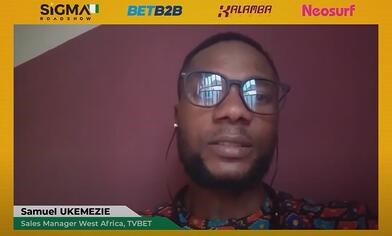 Ogechi Samuel Regional Sales Manager, West Africa for TVBET gives our viewers an overview of TVbet's primary task which is to provide partners with truly engaging content for a worldwide audience.
As the B2B provider, the company offers a far-reaching variety of broadcasting live games.
Live streaming is at the core of the brand's content solutions. Along with the technological superiority and fascinating game mechanics, TVBET's reinventions of world-known lotteries and card games became an integral part of any casino's and sportsbook's offering.
The rise of Africa: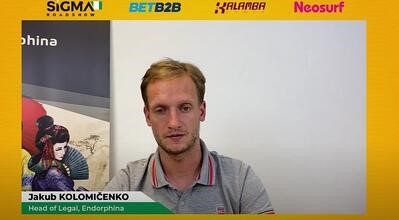 Africa is on the rise and not only from the gaming perspective. Land-based gambling is still common as a significant number of players aren't familiar with smartphone technologies. When it comes to the online market, Africa is on the verge of regularising it.
Understanding the industry is the key towards successful regulation in online gambling, but having clear, complete, and understandable regulation, is the key to develop gambling markets. "It is all about a long-term relationship between players regulators and operators."
The evolution of tech in gaming: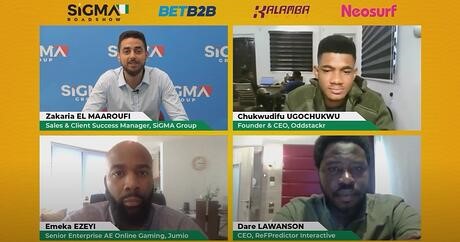 Gaming has come a long way and tech has proven to be key to the rise of gaming in Nigeria, with gaming experiencing various advancements through technology.
Speaking during this panel were; Chukwudifu Ugochukwu, Founder & CEO at Oddstackr, Emeka Ezeyi Senior Enterprise AE Online Gaming at Jumio, and Dare Lawanson CEO of ReFPredictor Interactive.
The panelists reveal how Nigeria is one of the most exciting frontiers for emerging tech usage with Ezeyi disclosing that although there's a lot that needs to be done in the near future, according to research "43% of the population in Nigeria actively use the internet." Lawanson says that the government is playing a huge role in this with the "inclusion of more rural areas with cashless payments.
The transition from credit and debit to mobile payment is pretty fast in Nigeria." he maintains.
Chukwudifu Ugochukuw also suggests for "the country to open up more to foreign operators because I think competition helps a lot in bringing down prices."
What's next for lotteries and retail casinos?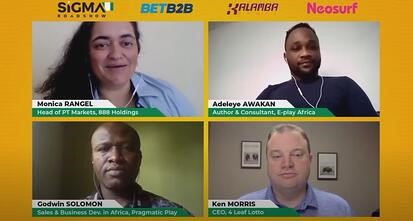 Lotteries were legalised in Nigeria in 2005 when the Lottery Act was officially established. Another hot topic titled 'What's next for lotteries and retail casinos?' was tabled by leading experts Godwin Solomon Sales & Business Development in Africa of Pragmatic Play, Ken Morris CEO at 4 Leaf Lotto, Adeleye Awakan Author & Consultant for E-play Africa, and moderated by 888 Holdings- Head of PT Markets, Monica Rangel.
A sum-up of the topics in conversation was: the importance for platforms to have the right resources especially resources that are useful in Nigeria such as SMS, USSD; alternative types of games in the online world such as lotto and sports; responsible gaming and regulatory aspects. When it comes to regulation, Awakan believes that Nigeria needs "to block illegal websites, that do not pay tax, and build a regulated environment."
SiGMA Group thanks Zakaria El Maaroufi, Sales & Client Success Manager for the African market for hosting this informative event. This Roadshow will be followed by the Nordics and Netherlands in August.
The second part of the tour kicks off in September with Romania, New Jersey in October, Taiwan in November, before rounding off the year with the Netherlands in December. View the full calendar of events and agenda here.
Want to be part of the SiGMA Virtual Roadshow? Get in touch and register here.