NFL Schedule for Super Wild Card Weekend Settled
Get ready for three days of huge NFL playoff games. Starting January 15, there will six Wild-Card games taking place.
The league finalized the schedule on Sunday night at the end of the regular season. Remember, BetUs is the place to go when making all your NFL wagers and other sports.
SUPER WILD CARD WEEKEND
Saturday, January 15
AFC: 4:30 p.m. (ET) 5 Las Vegas at 4 Cincinnati (NBC, Peacock, Universo)
AFC: 8:15 p.m. (ET) 6 New England at 3 Buffalo (CBS, Paramount+)
Sunday, January 16
NFC: 1 p.m. (ET) 7 Philadelphia at 2 Tampa Bay (FOX, FOX Deportes)
NFC: 4:30 p.m. (ET) 6 San Francisco at 3 Dallas (CBS, Paramount+, Nickelodeon, Amazon Prime Video)
AFC: 8:15 p.m. (ET) 7 Pittsburgh at 2 Kansas City (NBC, Peacock, Telemundo)
Monday, January 17
NFC:    8:15 p.m. (ET)  5 Arizona at 4 Los Angeles Rams (ESPN/ABC, ESPN2, ESPN+, ESPN Deportes)
Wild Card Playoff Game Odds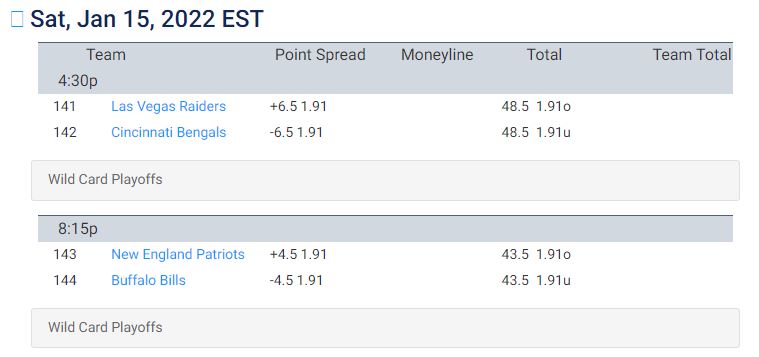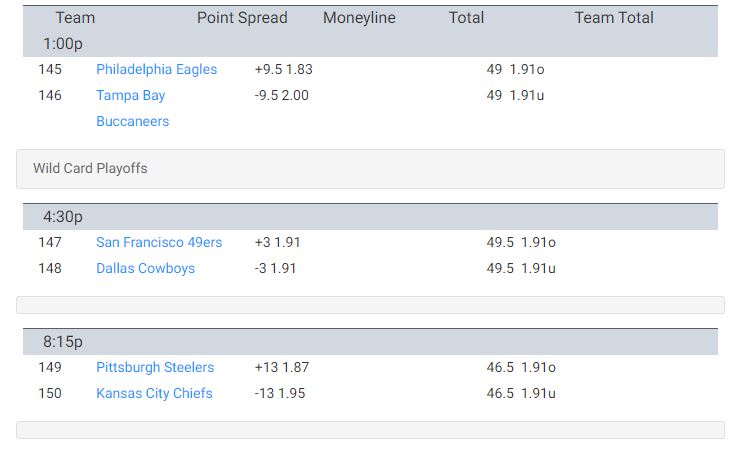 American Football Conference
National Football Conference
1.
Tennessee Titans (12-5), AFC South champion
1.
Green Bay Packers (13-4), NFC North champion
2.
Kansas City Chiefs (12-5), AFC West champion
2.
Tampa Bay Buccaneers (13-4), NFC South champion
3.
Buffalo Bills (11-6), AFC East champion
3.
Dallas Cowboys (12-5), NFC East champion
4.
Cincinnati Bengals (10-7), AFC North champion
4.
Los Angeles Rams (12-5), NFC West champion
5.
Las Vegas Raiders (10-7)
5.
Arizona Cardinals (11-6)
6.
New England Patriots (10-7)
6.
San Francisco 49ers (10-7)
7.
Pittsburgh Steelers (9-7-1)
7.
Philadelphia Eagles (9-8)