Exclusive The Betting Coach: an interview with Javier Cicciomessere – Sales Manager for Spain and Latin America at Golden Race, a virtual game company that has become a global gambling leader
Javier Cicciomessere, sales manager for Spain and South America, of the most famous and chosen virtual game producer in the world and protagonist of this PGS2019
The countdown to this 17th edition of the Peru Gaming Show has finally come to an end. The world of gambling is ready to take the field this June 19th and 20th at the Centro de Exposiciones Jockey in Lima, Peru.
The long-awaited event is considered unmissable in the world of gambling, being among the most important ones in all of South America.
Also this year, PGS offers all its participants the opportunity to discuss and get in touch with everything there is to know about the sports betting market in South America.
The Betting Coach – official media partner, will follow for its users, every single moment of the global fair organized by AMG (Affiliated Marketing Group), meeting and interviewing the absolute protagonists of this 2019 edition.
Here is our interview with Javier Cicciomessere of Golden Race *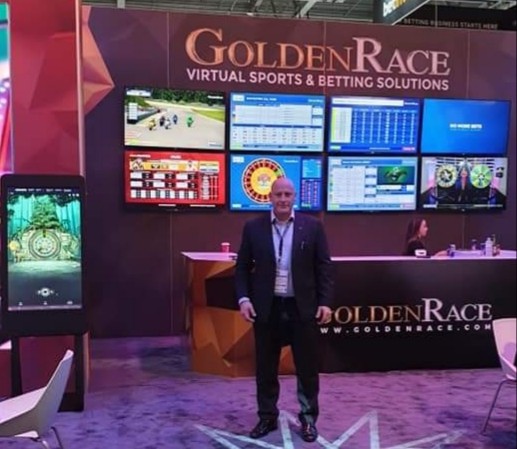 * Golden Race is a young and dynamic company born in the field of sports betting in 2006 with the successful launch of dog racing and over 8,000 licenses sold.
Golden Race has invested in the development of many new products based on virtual betting events. Its headquarters is now based in Malta, with two additional support and development centers in Spain.
In 2013, Golden Race gets the quantum leap with the introduction of its flagship product for betting shops, the GOLDENBOX. This powerful and compact device contains all the Golden Race games and connects two Full HD TVs, each of which shows four different play areas simultaneously.
After presenting GOLDENBOX at the ICE London, at the ENADA in Rome, at the G2E Asia, at the SAGSE in Buenos Aires, at the G2E in Las Vegas, at the FAJDA in Bogotá and at the RGW in Moscow, Golden Race has partnered with numerous leaders of market achieving excellent growth globally.
Currently, more than 40,000 shops are running with Golden Race software and more than 300 websites operate the company's games.
At the moment, the company is preparing to launch exciting new products: 3D Soccer expansions, Motor Racing, HD 3×3 Basketball and other live events to guarantee customers the best possible betting experience.
Visit the official website: https://goldenrace.com/
1- Javier Cicciomessere, sales director for Spain and Latin America of Golden Race, a young and dynamic company that has become a fundamental part of world gaming. When did your company born and how did it manage to establish yourself on the market in such a short time?
Golden Race was born in 2006, offering a Virtual Dog Racing product for betting shops. This first launch was a complete success: we were able to quickly sell more than 8,000 licenses.
Our growth strategy has always been based on developing the best solutions to satisfy our clients' needs, solutions that nobody else in the market could provide them. We knew that, in order to open and run a betting shop, operators needed a big investment and they had many connectivity problems. For that reason, we created high-quality products that make it extremely easy to open a betting shop, manage it, and help it grow at a very low cost. These all-in-one solutions are very easy to install, they are offered preloaded with an entire game suite and require less storage space than any other supplier in the market.
We mainly focus on developing the sports that people are most passionate about, with a wide variety of features to enjoy. For instance, our 3D Virtual Football is extremely popular and available in different cup and league formats, offering numerous betting markets. Many of our games have received important awards in the industry and we keep investing constantly in new, exciting games. We have also created a cutting-edge online platform for both desktop and mobile.
Now, more than 40,000 shops are running with Golden Race software and our games are operated in more than 300 websites, while the numbers keep growing globally. To name some examples: 8 out of 10 virtual bets in Africa were place last year through Golden Race. We are also leaders in Italy, one of the major markets in Europe for virtual sports.
2- An unprecedented success, arrived with the launch of GOLDENBOX. What are we talking about and what were the steps that led to develop this idea?
The GoldenBox is the most convenient hardware solution for betting shops in the market. It is a small, powerful device that offers the possibility of opening and expanding land-based betting businesses for an extremely low cost.
The idea was born from our clients' need of having a very simple, complete and cost-effective hardware solution that concentrated everything they needed to operate.
There are two versions of the GoldenBox to choose from. The GoldenBox V2 is capable of displaying up to 12 events simultaneously on 3 different HD screens as soon as it is connected to the internet. The GoldenBox Compact is an android-based cashier & viewer solution that can be acquired for as little as €100 and live-render up to 4 virtual games and sports at the same time.
3- Golden Race is ready to launch new exciting products, what's in program and when will we be able to officially test these new games?
Golden Race is getting ready to present soon the expanded and enhanced version of our multi-awarded virtual football, with incredible technological advances. Also, one of our new products will be Motor Racing; we are looking forward to show it to the world because it is exciting development.
We are also preparing to launch our original HD 3×3 Basketball, a product that will combine in-play and cash-out technology with real sports data and real video action featuring professional players. This dynamic game is very popular around the world, and we know that, with all the advanced features that we are including, the product will be unstoppable.
4- Gambling, South America and the new laws to regulate the games! PGS2019 arrives in a very important period becoming an appointment not to be missed. How do you see the future of the sector and how did Golden Race decide to conquer the South American market?
We are very optimistic about how the market is going to expand in South America in the near future. Golden Race is already market leader in Peru and we have great partners in the region. Our clients here are very satisfied with the quality and profitability of our products and solutions, the quick response of our platform and the dedication of our customer service department.
Also, we are especially ready for the new online gambling regulations, since our online platform is extremely convenient and dynamic and has been very well tested around the world.
We are looking forward to the passing of the new laws that will allow us to replicate this great success all over the region.
. Copyright © The betting coach