Creating and distributing innovative and licensed online casino games, are the basis of Endorphina's success! Interview with Jakub Kolomičenko…
Jakub Kolomičenko is the Head of Legal of Endrophina Ltd., an award-winning and recognized company that develops and distributes highly performing and successful online casino games. We decided to do this interview to better understand the "behind the scenes" of a very interesting company that manages such a large and rapidly developing business in multiple territories.
The online casino games market is constantly evolving and the Covid19 pandemic has amplified both the supply and demand for these products around the world.
The rapid increase – in just one year – has forced providers to release a large number of very similar Slots in themes, technologies and graphics; most of these games turned out to be "borderline" from the point of view of copyright and intellectual property rights.
This detail, in addition to triggering a large number of legal disputes, makes us reflect on how difficult it is to produce and distribute a new game.
To this complexity, we must add the detail that, the "media boom" has not only involved iGaming companies, in fact also many governments have begun to work to change or increase online gambling regulations.
Before proposing to new customers or issuing new titles, it therefore becomes necessary to know the territories for which you want to operate and start delicate operations that in reality only a few companies are able to implement.
Endorphina is one of the leading providers on the market, and has been able, for some time, to successfully manage this delicate business, for this reason we have relied on its Head of Law to understand the current state of things and therefore know the "behind the scenes" of development and management of a good casino games portfolio.
---
*ABOUT ENDORPHINA
Endorphina Ltd. is a dynamic and creative company that lives and breathes iGaming development. The math and algorithms behind all the games are consistently reliable and thoroughly tested by GLI. The company has also been licensed by MGA and ONJN
The versatile portfolio of these online casino games ranges from themes that are both innovative and traditional, provocative and cute, and of course trendy and old-school. Among the most famous games of this company are:
Book of Santa, Satoshi's Secret, Twerk, Slotomoji, Chunjie, Taboo and more, which adapt to different markets according to current cultures, history, mentalities and even popular social phenomena.
The team is made up of passionate people who come from all corners of the world and gather at the Prague headquarters, where they design all the titles, staying one step ahead of the competition and releasing at least 12 games per year.
This company handles every stage of creation, including graphics, sound, animation, and math.
DISCOVER ENDORPHINA ON SOCIAL NETWORKS
Twitter – Instagram – YouTube – LinkedIn – Facebook
---
Dear Mr. Kolomičenko, nice to meet you and thank you for accepting our interview! You are a Member of IMGL (International Masters of Gaming Law), Young Lawyers Committee and Head of Legal ! For those who still don't know you, who are you and what is your path before Endorphina?
Before Endorphina I was working two years as a corporate lawyer and member of the Czech Bar association. I have always been interested in the IT/IP law so my transfer to Endorphina was quite a logical step when I was looking for an in-house counsel job position. Of course, I didn't know much about the gaming law and industry back then ☺. Besides being a lawyer, I am also a father, husband, and enthusiastic triathlete.
.
From being with Endorphina since September 2014, what does this company mean to you? What budgets can be drawn over these 7 years? Is there a nice story you want to tell us?
Haha, so many nice stories come to my mind. For example, how we "smuggled" live kittens on one expo a few years back. Any live animals were of course strictly prohibited by the organizer, but we claimed that those kittens were assistance animals for our CEO and it worked somehow. That was really funny. Seven years is crazy long time. When I first joined, Endorphina was a small start-up company with no clients, and just a few games made. And look at us now. It is very exciting to look back and see what we have managed to achieve. Being part of that journey, sitting in the front row and witnessing all the ups and downs really makes me proud.
.
Your career starts from classical jurisprudence but then you changed your branch, focusing on intellectual property in the gaming sector. Why this change and what is the intellectual property of an online casino game?
I always liked to argue, so I don't even know how this change has happened. But it happened somehow. I like the igaming industry as a whole. It is an entertaining industry and in my honest opinion, it attracts special kind of people among which I simply feel good. The protection of IP is just part of my job. Intellectual property of the online casino game could be divided into two main categories – name and design. Of course, there is more such as the sound, mathematics, source code, etc.
.
Licenses, regulations and product compliance – could you give us a general overview of how things are internationally? How is the current situation and what guidelines does your company follow to operate?
Gaming is a highly regulated industry which we completely understand and approve. Almost every European jurisdiction has its own requirements for gaming. For us, suppliers, it is usually a certification or license requirements. It depends on the jurisdiction; therefore, it is crucial to closely watch all relevant markets. The world is becoming more regulated and our job is to be compliant so we can offer our games to as many operators as possible.
.
What do MGA and ONJN consist of? For which territories is Endorphina currently authorized to operate in?
MGA means Malta Gaming Authority and ONJN stands for "Oficiul National pentru Jocuri de Noroc." Those are the names of regulators in Malta and Romania. It would take some time to write all the jurisdictions where we are authorised to offer our games to operators. This is an ongoing process and challenge of our legal/compliance department, and it keeps us very busy.
.
Based on your experience, which is the territory with the most difficult Gambling regulation to obtain and comply with? Why and what are the times and procedures for obtaining permits?
The hardest gambling regulation is in those jurisdictions where it is not clearly stated what is allowed and what is not, especially when the regulator is not really communicative. Some regulators think that they can simply prohibit on-line gambling and do not realise that restrictions are just an open invitation for the black market. Time and procedures depend on the specific jurisdiction but usually it is a matter of months rather than weeks or years.
.
Which territory, on the other hand, is simpler to serve? How long does it take to obtain permits and what is the procedure to follow to apply for them?
It is simple to serve those with clearly stated requirements when we can always check with the regulator if we are not sure about its interpretation. That should be crucial for all regulators, to cooperate with the industry, as we all want regulation and we are on the same boat!
.
Are there any states where there are still no regulations? In this case, how are companies organized?
Yes, igaming is a relatively new industry and technological progress is always in front of the regulations which are trying to keep up. Unregulated markets can be very risky because it is not obvious what is allowed. We must watch these markets very closely and it depends on very detailed risk assessment.
.
Let's imagine we need to create a new title. Which legal parameters must be taken into consideration? What does Endorphina's legal department do? How is the title defended from any violations of the rights of use?
Before we start with the development process, we sometimes register trademarks to protect the name during the process of creating. Once the game is created, we register the design of the game to protect the artwork. Also, we decide on what markets the game will be supplied in so we will initiate the certification/licensing process for agreed jurisdictions.
.
Does Endorphina have any patents? In your career, did you happen to witness a copyright infringement and therefore defend yourself from obvious plagiarism?
Not exactly a patent because you can register a patent for software only in very specific cases and jurisdictions, so it is not the industry standard. We rather use trademarks and design protection. Yes, in quite some cases we have experienced our IP infringement. So far, we have been always able to find an amicable solution and protect our rights.
.
Your entrepreneurial figure works "behind the scenes" of one of the most active companies on the market, but you recently held an important role as the "front-man" at #GAME2021. You have been a moderator of a very interesting panel! Tell us about this experience.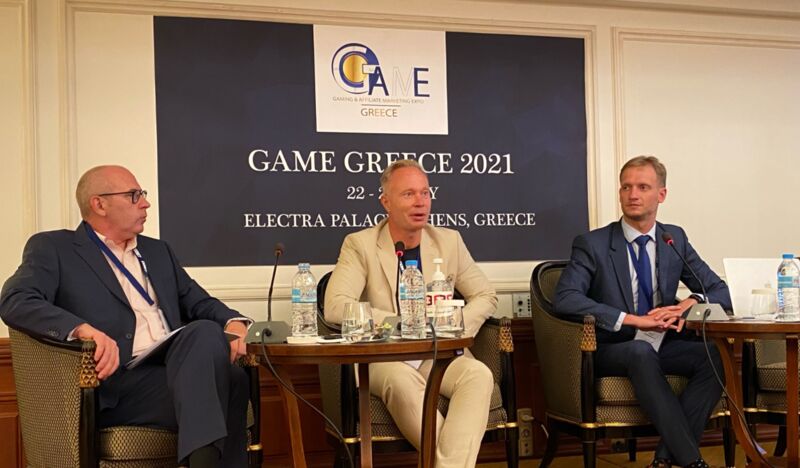 Yes, I love public speaking, it is a great way to explain to the public what we are actually doing in the gaming industry. Particularly, I like moderating panels. I believe that a good moderator is much needed for the panel flow and to keep it interesting. Preparation is the key here and I am always practicing and discussing with my panelists before the panel starts. What the audience sees on the conference is just the cherry on top. The real work is done days and sometimes weeks before the show.
.
Will you attend other industry events? Where and when will we be able to meet you and Endorphina in the immediate future?
I will, but actually now I am not able to be more specific. It seems that we will be going back to normal after the lockdown, so there are so many events. I need to sit down with the team to schedule the program for Autumn. But thanks for the reminder, I must address this issue as soon as possible! ☺
.
Is there something that the regulations of all States have in common? If your answer is yes, which one? Also, what would you generally change around the world? What advice would you like to give to governments to improve and simplify their rules of the game?
In general, I am always fighting for the change of perception of the gaming industry. We are not trying to make people poor, our goal is to entertain people. Gambling was in the past and will still be in the future, no restrictions will prevent people from gambling. Therefore, wouldn't it be better to actually regulate gaming in a way that all parties involved will benefit? Majority of the gaming industry welcomes meaningful regulation with the protection of vulnerable players. The key here is to regulate gaming and keep the games attractive for the players at the same time. The players know the games. And if the regulator for example limits the maximal win on the game when in different jurisdictions the win is unlimited, it is quite easy to estimate, where the player will go. Regulators often do not realise the difference between the specifics of online and land-based casinos. But this is the internet. Any information is just one click away. Regulators should focus on channeling their players into their regulated jurisdictions. There are many ways how to do this, but restrictions are certainly not the way to go.
.
We conclude with a question about the future! What's boiling in the pot? What will be the next developments in your career at Endorphina? Are there any markets close to being conquered by your company?
We are really busy working on new markets requirements. It should be big, let us surprise you!
.
We hope you enjoyed this interview! Thanks again for your time Jakub, we hope to soon meet you and Endorphina at upcoming events and conferences around the world!